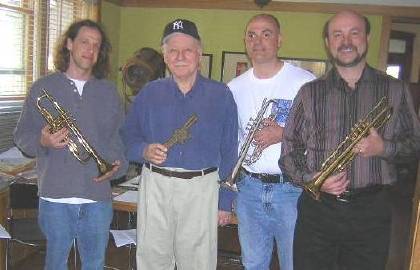 A Whole Lot of Benge Guys - May 1, 2007

I'm not sure how interesting this is, but there were more
Chicago Benges (14) in that room than, possibly, any other
room in the world. Ryan's eleven, Mike's two and my one;
too bad that Joe Summerhill didn't bring his, too!
Click here to return to the Chicago Benge home page.


From left to right:

Ryan Zoghlin. holding his favorite Chicago, #728, which was the first Benge he'd purchased.

Joe Summerhill, who studied with Elden Benge and assisted with the making of trumpets at the Morse Avenue location. He is holding valve section #2801, which was given
to Ryan by Zig Kanstul.

Mike Lill, holding his C trumpet #2429.

Joe Lill, holding his
Bb trumpet #3165.