featuring
Joe Lill's Six of One

Joe Lill
Trumpet, Flugelhorn, Vocals

Andrew Collins
Keyboards, Vocals

Mary Launder
Vocals

Mike Lill
Drums, Trumpet, Vocals

Joe Palumbo
Tenor Sax, Soprano Sax, Flute

David Gans
Guitar, Vocals

Click on the above names to go to our personal websites.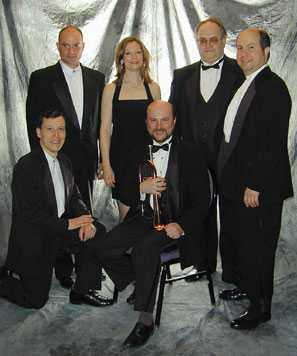 Click here to go to the songlist page, where
you can also download sound files!

Click Here to request a promo pack
or to send an email to Joe Lill

Prefer to phone? Call us at 773-631-3154.
A New Option!
If one fantastic woman vocalist
isn't enough, try two!
Michele Thomas has been a marvelous
addition to the band on a number of
occasions. If you've already hired us
for your party, consider adding
a seventh person!

Click Here for a sample of her debut CD,
I'll Take Romance